Today is the last day of the month. Next week the lockdown will be over and its back to work, kind of anyway.
I've spent the last 12 days working on the Sam Kuen Do (SKD) manual and updating the learning syllabus. Right now we are at version 2.0. By next week we will move on to version 3.0. The challenge is how to learn more without having to have to learn too many things (expansive yet compact).
SKD version 3.0 brings some new learning areas such as :-
a) 3 different methods for generating power using the lower body
b) How to use (a) while stepping using Leung Yi Bo
c) Improved ways to learn the three basic force models
d) Incorporating (c) into the corresponding three strikes
e) Revamped 6-blocks and variations (7-blocks, 8-blocks, 9-blocks)
f) New strikes – linking three floating palms and linking two chopping strikes
Working on SKD has helped me to reorganize the teaching of the 8-step Health Form. I have not posted any videos to learn it step-by-step because when I tried making videos then I found out that what I took for granted, how I learned it, is not that easy to put across in self-learning videos. In fact, it could be confusing.
One example is from the topic of the 2 4 points. In Grandmaster Wei Shuren's original pictures from his book on the 22-form the points are not even labelled – see below :-
In my post here (pictures also reproduced below) I labelled where the 2-point and 4-point is for ease of reference. But as you can see below the 2-point is the same whether the leading leg is the right leg or left leg and this can be confusing.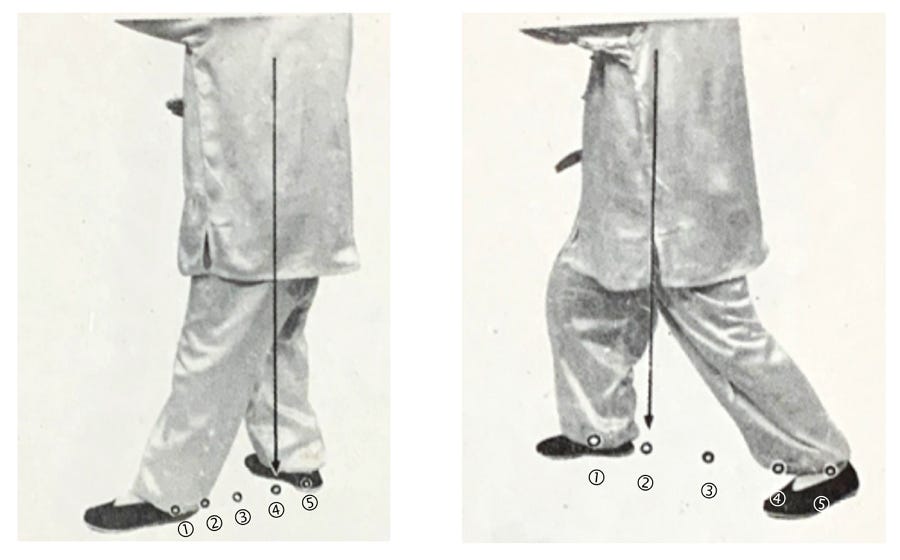 After deliberation I have come up with a simpler way to do this. For the purpose of learning the 8-step Health Form and for the teaching of how to step in SKD (yes, I am going to use this teaching tool in SKD also) we will just follow a straight forward, clear cut convention as shown below :-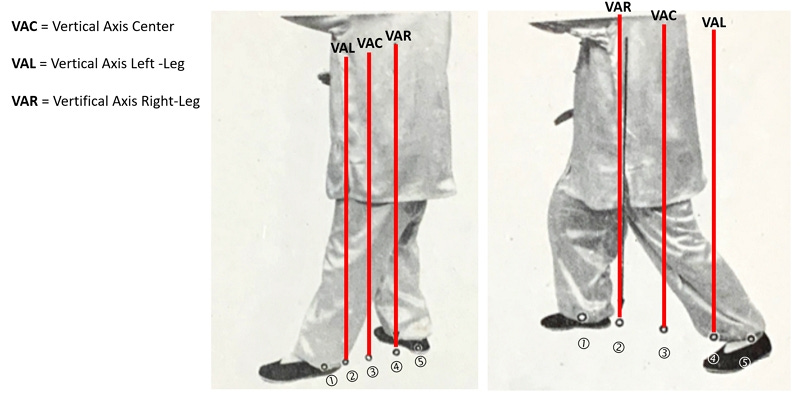 So that's the update. Now back to work on the SKD manual.